An official groundbreaking ceremony was held today (12th November 2021) for the Shildon AFC Community Garden.  The garden is being constructed on the waste ground at the Dean Street end of the football ground, with work already underway.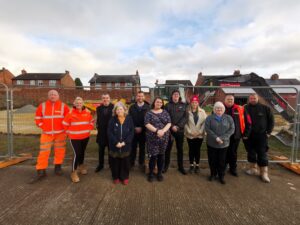 Pictured: (L-R) Mark Jackson (Hirebase Gateshead), Beverley Williams (Buildbase Gateshead), David Dent (Chairman, Shildon AFC), Cllr. Shirley Quinn, Andrew Walker (Bishop Auckland & Shildon AAP), Cllr. Samantha Townsend, Cllr. Matt Johnson, Ashley Wharton (Shildon Alive), Tracy Chappell (Shildon Alive), Trevor Howe (Buildbase Gateshead), Mark Charlton (Trilogy Turf)
The Garden was made possible by the Club's successful bid to the Buildbase Community Club Award, which resulted in an award of £25,000.  The Club were also successful in achieving funding from the Councillors Neighbourhood Budget (which is administered by the Bishop Auckland and Shildon Area Action Partnership (AAP)), which wouldn't have been possible without the support of Councillors Shirley Quinn, Samantha Townsend and Matt Johnson along with Andrew Walker from the AAP.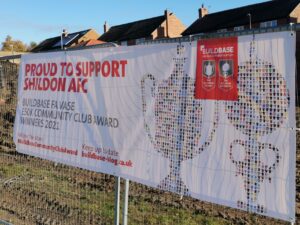 Beverley Williams, Branch Manager (Buildbase Gateshead) said "As sponsors of the FA Vase and FA Trophy, Buildbase and Hirebase Gateshead are very proud that this year the busary award will benefit the community and locals as well as the Club and players."
Andrew Walker, AAP Co-ordinator continued "We are delighted that through Councillors Johnson, Quinn and Townsend we could support Shildon Football Club with this fantastic community project." 
David Dent, Chairman of Shildon AFC thanked everybody involved in helping bring this project to fruition.
"This garden will be a true community asset for the people of Shildon. It wouldn't have happened without the support of Buildbase and the AAP for which we are extremely grateful. It now provides the Club with a fantastic opportunity to build upon our community work with our partners Shildon Alive and the Solan Connor Fawcett Trust but more so it allows us to have greater reach within our community which we intend to do via our charitable arm, Shildon AFC Foundation, which we intend to launch in the New Year".
Ashley Wharton from Shildon Alive commented "We are very excited to support this amazing initiative and work in partnership to provide an outdoor space that will not only benefit the wider community of Shildon, but bring all members together and instil pride in their hometown".
Construction work is being undertaken by Club partner Trilogy Turf with equipment from Hirebase Gateshead and is scheduled to be completed early in the New Year.