It's been another successful summer for community initiatives at the club. Once again the free summer holiday activities programme proved very popular, with all the places on this year's scheme fully booked. The programme was open to boys and girls aged 8-12 years and was packed with fun exercise and the opportunity to train and play football with Shildon AFC, along with a healthy lunch provided by Shildon Alive – all free of charge.
This is the fourth year of the programme with over 150 children participating with over 600 meals being provided over the years! All of this was done in partnership with Livin, Bishop Auckland & Shildon Area Action Partnership, Shildon Alive and the Trident Community Foundation. The Holiday Clubs at Easter and over the Summer Holidays were held either side of our local primary school, Thornhill, holding weekly PE sessions at the Garden.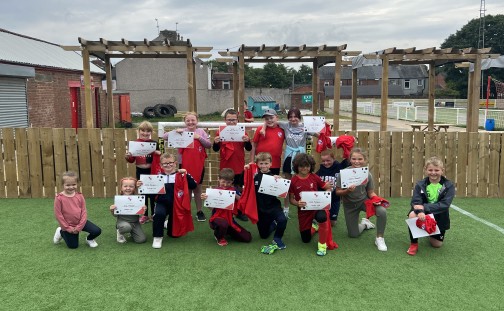 The Club continues to develop new initatives and we held our first session with our 'Junior Loco's' an initiative for toddlers aged 2 to 4 years which proved extremely popular. We have also hosted football 'Camps' with our partner Shildon Alive:
The Club hold weekly Walking Football sessions in the Community Garden and are expanding the range of community initiatives over the coming weeks including sessions for social exercising for women over 40's with the aim of improving mental health and we will be hosting a schools football tournament in September/October. We are also looking to commence our Shildon AFC Soup Days in the Autumn with the Club providing some broth, a cuppa and a place to chat for members of our community.

If you would like any more information on the community initiatives being developed at the Club or have any ideas on new initiatives we could develop please contact our Community Development Officer, Lauren Robinson on lauren.robinson@shildonafccic.com.