Shildon AFC are delighted to announce a new sponsorship deal with Shildon based ManHealth (a not for profit Community Interest Company), which includes our new home and away shirts sporting the ManHealth logo.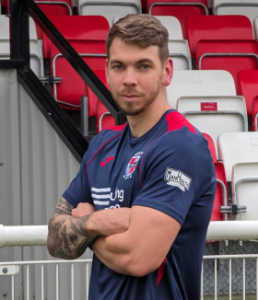 ManHealth are the only voluntary sector organisation using a proactive approach to address the crisis of male suicide and provide free peer support groups across County Durham, Darlington, Tyne and Wear and Northumberland for men who are going through a storm, the aim of which is to support men through difficulties in their mental and physical ill health, ultimately to prevent suicide.
Paul Bannister from ManHealth said "The North East of England has the highest suicide rate in the UK. 76% of all deaths by suicide are men. Suicide is the leading cause of death in men aged under 50. The biggest at-risk group from suicide are men aged between 45 and 54. We hope by having the ManHealth logo on the shirts of Shildon AFC and display boards around some of the major grounds in the Northern League we can encourage men to find someone they trust to listen to their problems before they reach crisis. Suicide is a permanent solution to a temporary problem."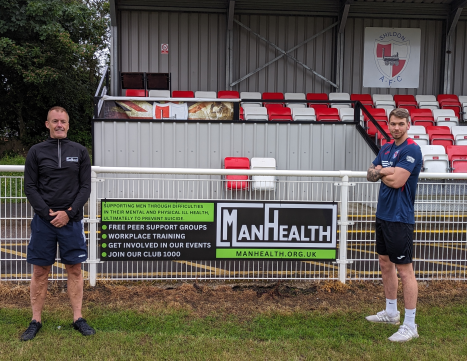 David Dent, Shildon AFC Chairman said " We are really pleased that we have the opportunity to showcase ManHealth through our sponsorship. Football is a tool used by this charity to get lads interacting and hopefully give them a release from their anxieties and improve their mental health.  We hope that we can help ManHealth with their fantastic work in preventing suicides within our community".
Rick Marsden from Building Densign Northern, our new platinum sponsor and main shirt sponsor was also present and commented "We are delighted as a North East Business to be associated with such a fantastic initiative, raising awareness on such a difficult subject is fundamental in helping assist men struggling with their mental health. Hopefully the partnership can have an impact on the North East and wider regions. The team at ManHealth are an absolute delight to work with."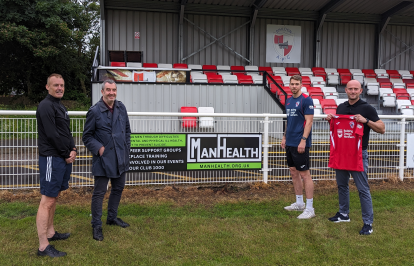 Further details on ManHealth can be found here:  ManHealth
Keep a look out for details of our annual Charity Day on the 6th August 2023 when will be once again hosting a game between ManHealth and TeamSolan!