Shildon AFC are delighted to announce that Matty Bateman has signed a new deal with the Club.  The deal is a 1 year contract with a one year option.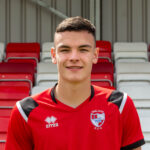 Matty arrived from Bishop Juniors FC in October 2019 and has been an integral part of Shildon AFC reserves recent success and has made a number of appearances for the first team.  He spent part of last season on a sucessful loan spell at Redcar Atheltic FC.
Congratulations your new deal.