Shildon AFC Chairman, David Dent today assisted in laying a commemorative stone in the block work for the new changing facilities at Dean Street.
The construction of the building is well under way and it is hoped that it will be available for use later in the summer.
Building work is being undertaken by Club partner Westholme Construction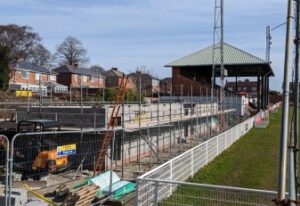 The work on the changing facilities at Dean Street is one of a number of works which are changing the face of the ground.  The Community Garden is nearing completion, the old portacabins which currently house the home dressing room will be removed and layout of the remaining changing areas will be remodeled to include a Medical Room and spectator toilets.
David said, " The building of the new changing blocks has been an enjoyable experience and that's down to working with Westholme Construction who have been absolutely fantastic.  We needed these works doing as part of the requirements to play in the Northern Premier League East but they represent much more than that.  They alongside the Community Garden form a big part of building a sustainable Community Club and it's been a privilege to lay this stone knowing the Club is well on course, along with the changing blocks, to be here for the next 100 years"