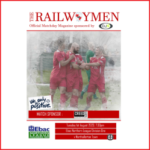 Shildon's first pre season game of the season ended in a 2-1 victory for the Railwaymen. Northallerton took the lead early in the first half before goals from Paul Connor and a late strike Mark Doninger gave Shildon the victory.
If you are using an iPhone or iPad click here
[fsg_gallery id="82″]
The supporters club coach will be setting of to Northallerton at 1pm on Saturday 11th July from the ground.
The Clubhouse will be open from 12 noon prior to the game.