Shildon AFC are delighted to announce the signing of Toby Pascoe.
Defender, Toby was awarded the Young Player of the Year last season at Crook Town AFC in his first season in adult football.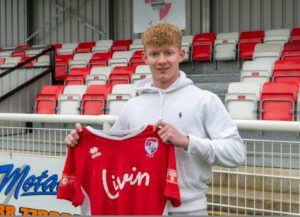 Shildon AFC Manager, Jamie Tunstall said:  "I'm really pleased Toby has joined us for this season.  He's a proper old fashioned full back whose an outstanding defender and very capable in possession.  He had an outstanding first season in men's football and has loads more developing still to come. He quickly became a fans favourite last season and won the young player of the year award which shows how well he did. I'm delighted I get to keep working with him. 
Toby's first interview with Wilf Tray is available here:
Welcom to Shildon AFC.