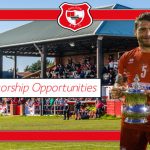 Sponsorship Brochure for Shildon AFC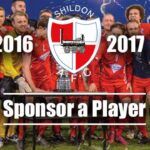 Every fan has their favourite player and, ultimately, the players are what the fans come to see. With the management tram, they bear the burden of responsibility for bringing success to the club.
Here at Shildon, the players are the embodiment of the team spirit that runs through the club and the relationship between the players and fans here is very special.
Last season the team performed magnificently on the park. To associate your name with a member of the Shildon Football Club squad is to associate yourself with hard work, fair play, high performance and team spirit.
We offer the following opportunities to sponsor your favourite member of the squad.
Option 1 : Player Sponsorship £ 25
Invitation to the end of season party
A photograph taken of you and your chosen player
Your name listed against the player profile in both the matchday programme and on the official website
Option 2 : Management team Sponsorship £ 25
Invitation to the end of season party
A photograph taken of you and your chosen player
Your name listed against the player profile in both the matchday programme and on the official website
For further information please either call 07538 789 464 or email commercial@shildonafc.com