A community has celebrated the official opening of a new community garden created on waste land inside the football ground of Shildon AFC.
The ceremony held on Thursday 14th April 2022 was attended by community leaders, funding partners, representatives from the Northern Premier League and Shildon AFC staff.
The Community Garden has been created to provide an all-year round outdoor facility for the local community.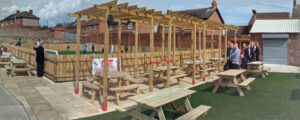 The ribbon was cut by Shildon AFC captain and local lad Ben Trotter.
David Dent, Shildon AFC Chairman said: "This is a special day for myself, my family, and the Club. I came back to Shildon to build a successful football Club and to put something back into the town that I grew up in. Thanks to Buildbase and our partners we now have an asset which the whole community can use and with our new CIC we will extend even further our reach into the local community, making Shildon AFC a true community football club".
A community interest company (Shildon AFC CIC) has been set up to manage the facility and a Community Development Officer appointed to further integrate the garden into the local community.
Funding for the Garden was made possible by the Club's successful bid to the Buildbase Community Club Award, which resulted in an award of £25,000.  The Club were also successful in achieving funding from the Councillors Neighbourhood Budget (which is administered by the Bishop Auckland and Shildon Area Action Partnership).
Construction of the Community Garden was completed by Westholme Construction.
Children have already been using the Community Garden this week as part of the Easter Holiday Activities scheme which provides sporting activities alongside a healthy breakfast and lunch.  Today marked the final day of activities and has once again proved extremely popular.  Each child participating was awarded with a medal, t-shirt and Easter Egg, all presented by Shildon AFC Manager Daniel Moore.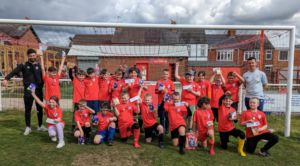 The Easter Holiday Activities scheme was funded by Livin, Fun & Food (Durham County Council), Bishop Auckland & Shildon Area Action Partnership, Shildon Alive and the PitchingIn Trident Community Fund.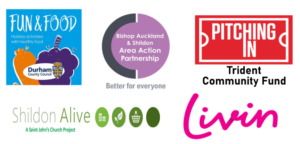 Special thanks also to Christian Taylor and Ben Trotter who facilitated/coached the activities during the four days of the scheme.