We are pleased to reveal our new 2022/23 home and away kits as we prepare for our second season in the PitchingIn Northern Premier League East.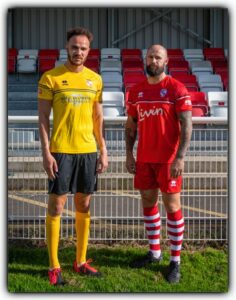 The Errea kits are designed and produced in collaboration with Motif8.
Our home shirt follows recent tradition and comprises red top & shorts, however the top has a new black and white stripe detail under a patterned band on the chest and the socks are striped red and white.
The away strip is new for this coming season and is comprised of a yellow shirt, with a patterned band and black stripes across the chest, black shorts and yellow socks.
Adorning the front of the home shirt is the logo of our sponsor Livin whilst Blue Diamond Machine Tools is detailed on the front of the away shirt.  Both shirts have the logo of our platinum sponsor J Denham Metals Ltd. detailed on the back along with the logo of Motif8.
Both shirts carry the logo of the PitchingIn Northern Premier League on the sleeves.
The shirts will soon be available to buy from our online Club Shop.