Shildon AFC is delighted to announce that Rick Marsden is to invest in the club and his company Building Design Northern (BDN) are to become the Clubs main sponsor, initially for the next 4 years. BDN will be front of shirt sponsors for all Shildon AFC strips, for the First Team and for the Under 18's.  They will also be sponsors for Shildon AFC TV.  In addition they will offer a select number of "community tickets" each game to community groups around the area.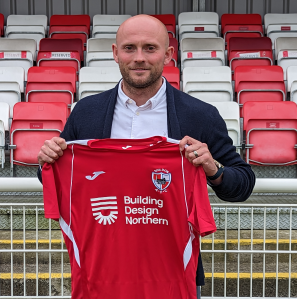 David Dent, Chairman of Shildon AFC, said "I'm delighted that Rick has decided to invest in the Club. He shares our vision, our values and is committed to supporting myself and the Board to achieve success on the pitch. He also gets that we are a community Club, a value which I know he's passionate about. He will provide myself and Diane (Dent) with invaluable support financially and his energy and entrepreneurship will be a massive asset to Shildon AFC, as we look to make significant investments into Dean Street and the community, which will ultimately result in the Club realising its ambitions"
Rick said 'As a North East business, we are proud to be investing in Shildon AFC and playing a part in the transformation of an ambitious, local football club that has such a bright future.
"Myself, and the team at BDN, closely align with the strong community values and camaraderie at Shildon AFC. The club and supporters have such a fantastic spirit and passion and embody what North East football is all about.
I am excited to work collaboratively with the Board, players and supporters to ensure that my investment helps the club achieve success both on and off the pitch."