As you are no doubt aware, we are holding a testimonial match in recognition of Billy Greulich Smith's 10 year's with Shildon AFC.  The match is to be held on the 2nd July 2022, 3:00pm at the J Denham Metals Stadium at Dean Street and will feature the first team versus a Shildon all stars team.
We are offering the opportunity to purchase advance admission via the Clubhouse at Dean Street and also via email briarave@hotmail.co.uk.  Admission to the game is £5.
If you are purchasing/picking up your season tickets over the next few weeks you can also purchase admission to the testimonial (a reminder of those dates are below).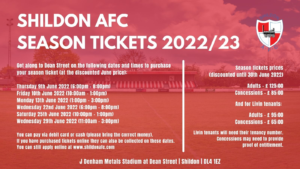 We look forward to seeing you on the day!