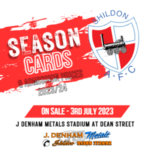 For the first time, Shildon Football Club will have a reserve side this season, playing in the Durham Alliance League and based at Sunnydale Leisure Centre.
The reserves will be joined in the league by reserve sides from Spennymoor Town and Bishop Auckland along with a minimum of 14 other sides. Playing last season as Durham Stonebridge, the side finished fourth in the league.
The side has announced a series of pre-season friendlies which will give Shildon fans the opportunity to go along and see the latest additions to the growing number of teams representing the club and the town this season.
The friendlies will be played at Sunnydale Leisure Centre with dates and kick off times as follows:
Sat July 5th: Shildon Reserves v  Silksworth CWFC, 2pm
Wed July 9th: Shildon Reserves v  Rutherford FC, 7pm
Sat Jul 19th: Shildon Reserves v  Easington CWFC, 2pm
Wed July 23rd: Shildon Reserves v  Ashbrooke Belford House, 7pm
Sat July 26th: Shildon Reserves v  Sunderland West End, 2pm
Sat August 2nd: Shildon Reserves v  Swallwell, 2pm
Entry to all reserves games – friendlies and league matches – is free.
Shildon Reserves' league campaign will kick off on Saturday 9th August. Fixtures are not yet available. You can also follow the Reserves on twitter at their account @ShildonReserves where they will be tweeting all their news and live matchday scores.
The curtain may have only just fallen on the 2013-14 season, but Shildon are already well ahead in their preparations for next season.
The club's pre-season friendlies – subject to any changes – have now been finalised and include a prestigious friendly against Scottish League side, Stranraer FC. Midweek games are expected to kick off at 7.30pm, unless otherwise indicated, while weekend games will kick off at 3pm.
The fixtures list – subject to any changes – is:
Saturday 12th July: Shildon begin their pre-season fixtures with a visit to Tow Law.
On Wednesday 15th July Shildon will travel to Blyth to taken on the Spartans, who play in the Northern Premier League Premier Division.
Friday 18th July: In a return friendly, Shildon will welcome Scottish League One side Stranraer to Dean Street for our first home friendly of the season.
On Monday 21st, the Railwaymen are on their travels again to visit Northern League bound, Ryhope Colliery Welfare.
Wednesday 23rd sees an opportunity for the lads to add to their trophy cabinet when the winners of the Durham Challenge Cup will meet Guisborough Town, the winners of the North Riding Cup, to play for the Eric Powles Trophy. The match will take place at Guisborough Town's King George V Stadium.
On Friday 25th July, Scottish Junior league side (the Juniors are the Scottish equivalent of the English non-league system) Tayport FC will be visiting Dean Street.
The Railwaymen will return home to welcome Heaton Stannington to Dean Street on Wednesday 30th July.
Finally, on Friday 1st August is the annual John Hay Memorial Trophy which will again be played at Seaham Red Star this year. Shildon lifted the inaugural trophy last season.
The 2014-15 season is expected to get underway on Saturday 9th August.